Sound Vault| Programs of Yesterday
The Johnson Family Singers
Here's a sampling of songs performed by thefamily on various programs from the 1940's and 50's. To read about the Johnson Family's 11 years at WBT (1940-1951), see "The Studio Clock," found in Articles, People.
1— I'll Be With You In Apple Blossom Time

CBS program on July 30, 1945. Solos by Betty and Larry Walker

2— Let Me Call You Sweetheart

WBT program on November 1, 1947.

3— Sunday Morning In Dixie

Columbia Records, recorded in Charlotte, Sept. 27, 1946. Written by L. Walker.

4— Swing Wide Yo' Golden Gate

CBS program circa 1947. Introduced by Kurt Webster. Larry Walker on piano.

5— Take Me Back To My Boots and Saddle

Date unknown. Introduced by Grady Cole. Vocal: Ken, Jim, Bob & Betty Johnson

6— Telling My Troubles To My Old Guitar

Regional CBS "Quaker Oats Show". Arthur Smith on guitar.Solos: L. Walker & Betty
The Corner Store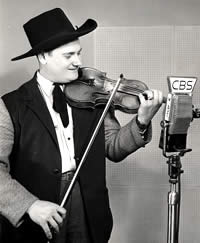 In the late 1940s and early '50s before TV took off like a rocket, WBT broadcast Arthur Smith's "Corner Store," a 15-minute daily transcribed show, featuring Arthur, Sonny Smith, Roy Near and Ralph Smith, appearing as Esau Jabberjaw, the (Black) delivery man. In later shows, Tommy Faile and Don Reno join the group. "Bill Mack, the traveling salesman" who announces the show and delivers the commercials is Clyde McLean. Here are four complete shows, recovered from transcription discs by Jim Scancarelli. The first show was dated Sept. 28, 1948. The others are from 1952. On the fourth show, you'll hear a new singer to the group, Margie Martin.
Tracks 1 through 4 in the player below.
Carolina Hayride
Every Saturday night (back in 1952) Arthur and his gang took to the airwaves for 30 minutes on "Hayride." You'll hear Don Reno and Tommy Faile in part two.
Hayride tracks: 5 and 6.
Carolina Capers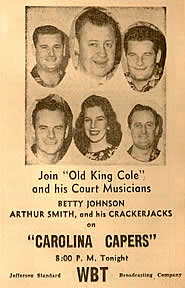 This was a 60-minute, Monday night, 8:00pm variety show on WBT, starring Grady Cole, Betty Johnson and Arthur Smith & The Crackerjacks (Arthur, Sonny, Ralph and Roy Near). Vintage 1950-51. In these three short clips Arthur shows him immense versatility. Unfortunately neither clip features Betty Johnson.
Arthur & Tommy
Over his long entertainment career, Arthur Smith wrote and recorded dozens of hits. An early one, in 1945, "Guitar Boogie," gained him international fame. His vocal recordings were generally novelties, such as "I Like Lasses." Tommy Faile, popular baritone of Arthur's Crackerjacks, occasionally recorded his own compositions, most notably "Brown Mountain Light" and "Phantom 309."
Project 60

Heard every weeknight at 8:00 p.m, and hosted by Clyde McLean, Project 60, over it's nearly 20-year run, was normally a serious effort featuring classical music, drama and documentaries. But not on April 1, 1964. On this night, Clyde narrated (with tongue firmly in cheek) the story of the infamous Glick family of Belmont. You'll be surprised to learn of the Glick ancestors' exploits throughout recorded history. It was probably Loonis McGlohon's uncompromising research and unparalleled writing that prevented this production from winning a coveted Peabody Award that year. Like it or not, you'll hear again some of the sound clips featured on the Belmont Tunnel section.
Gunsmoke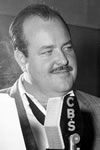 This 30-minute show from CBS Radio ran on WBT from 1952 until 1961, even after it was eclipsed by the TV version. Radio drama can sound dated and even dreadful in these jaded times, but you might enjoy photos of the cast and the story of the unconventional rehearsals they held on what was called "dirty Saturdays." Here's a recording in two parts of an entire run-through for an episode that aired on February 19, 1956.
Hello, Henry

For 16 years, from late 1979 to 1996, Henry Boggan lit up WBT's nighttime with his "Hello, Henry" call-in show. Sometimes he would have guests in the studio to help while away the hours. A couple of times a year his guests would be the Briarhoppers, the WBT country-western group from the '30s and '40s. Here are portions of their final appearance on the show (and on radio) on the night of July 2, 1996, not long before Henry himself said goodbye to WBT. There is a story and pictures on "Hello, Henry" in the Articles, People section.