Introduction
We've wondered for years what happened to all of those thousands of photos that Hank Warren must have taken during his decades at WBT and WBTV. We had no idea who his survivors were (if any), or where they might be.
Then, one day awhile back, out of the blue came this email:
Just found out about your project BT Memories and the article "Hank's Proofs", by way of my son Michael and my daughter Sheila.
Garnett B "Hank" Warren was my father. I have always been proud of his achievements, both in the entertainment world and his photography. I really appreciate the article you wrote about him.
When dad passed away and various things were being distributed to the family, all his picture collections were given to me.
If you would be interested in looking through these, you would be more than welcome to look through them, and use them in any way that would bring honor to his name, such as the article you wrote.
I warn you though, they are still in the plastic storage containers that they were put into, years ago. They are not sorted or arranged in any order. At one time I was going to scan each one and make a catalog of them, but there were too many and I soon gave up. I really don't know how many I have, because it's been quite a few years since I've looked at them.
Well, then.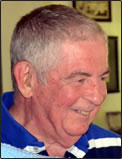 His name is Roy Warren, and he lives only about eight miles from me in Wesley Chapel, a community between Weddington and Monroe. Roy retired in 1996 as purchasing manager of the Duff-Norton Company, at which he worked for 36 years
Betty and I visited Roy and his wife Joyce at the first opportunity, and should have taken a truck! There were almost more boxes and containers than our SUV could handle.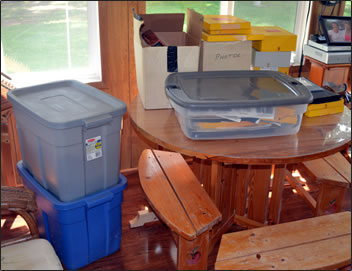 Hank's archive, or part of it. Where does
one start with this many photos?
They contained several thousand photos, including family pictures, station pictures and news clippings.
Two of us spent a full weekend just sorting them: Family, personal (Hank), Briarhoppers, Tenn. Ramblers, etc. (into categories indicated by the links at left). Then we removed the hundreds of duplicates.
Then, over a couple of days, we scanned the BT pics (273 of them) and the pertinent clippings.
Much to my sorrow, the collection—with some exceptions—is mainly material from the Forties and Fifties. One wonders, where are the photos for the decades since.
Like his father, Roy is a delight to be around. He's into so many activities, like woodworking, needlework, carpentry. Click the Roy Warren tab for a look at some of his work.
—RB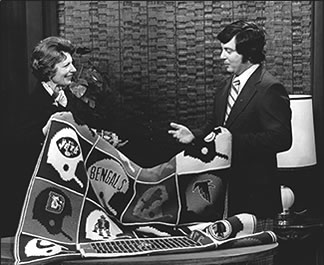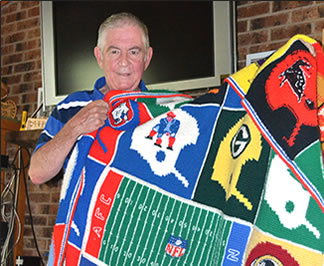 In 1964 Roy was on The Betty Feezor Show displaying his handiwork, a tapestry of NFL and AFL team designs. At right, the same man and same needlework some 49 years later.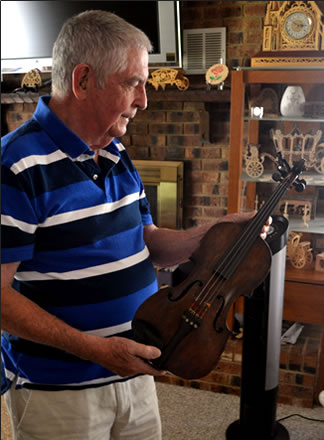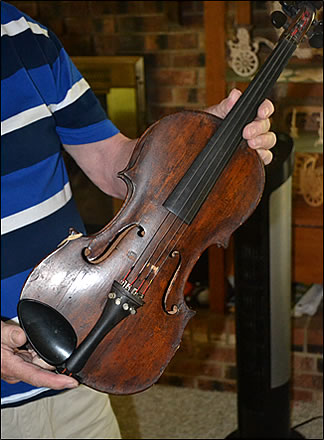 Roy shows us his father's worn and cherished violin. How many tunes did Hank play in his lifetime? And how many times did he play his specialty, "Orange Blossom Special?"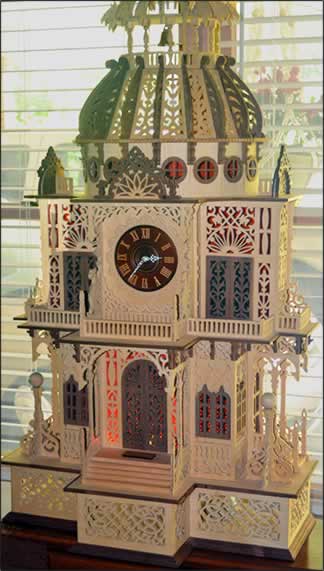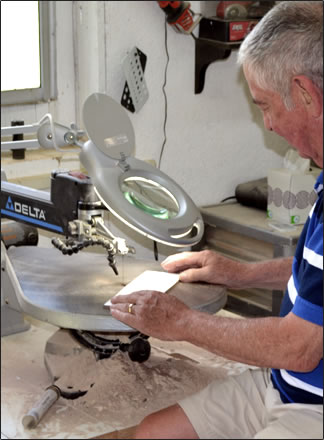 Hank spends hours at his scroll saw on projects like the intricate, ornate, 4-foot clock tower at left. He builds larger things in his well-equipped shop, such as tables, grandfather clocks, even storage buildings.