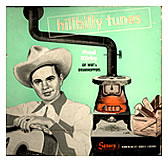 They called him the nation's "Victory Cowboy" during the war years . . . because Fred Kirby yodeled in over five million dollars worth of bond sales for Uncle Sam. That's a lot of yodeling ... and it took the friendliness and warmth of Fred Kirby's familiar voice to "put it over" with such a bang.
Hill-billy music, a rich and wondrous part of American history, is ideally suited for Fred's melodious, happy-go-lucky voice. His repertoire includes much of the folklore of the southern hills . . . which may be one reason for his tremendous popularity on WBT's "Briarhoppers," a six day a week hill-billy jamboree originating in Charlotte, North Carolina.
But even with his past success and future promise, Fred Kirby has a smile and a handshake for all who cross his path. He is indeed the Pied Piper of the hill-billy ballad.
— Liner notes
"Hill-billy Tunes"
c. 1947