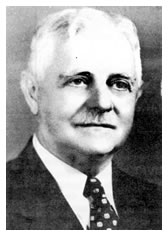 Julian Price Was born in Richmond, VA in 1867.
He relished his reputation as a polite, though scrappy, man of principle and vision. He was admired and respected within his family, community, and industry.
Shortly before his death, the Greensboro Democrat, devoted almost an entire issue to Price, giving some insight into his unconventional character. For example, Price reportedly didn't own a home until he was 60 years old, choosing instead to rent: "Fools build houses. Wise men live in them," he believed.
Other bits of Price wisdom were recorded for posterity: "Stay out of debt. If you don't owe any money, you're able to look a man in the eye and tell him to go to Hell," and "I like a fellow with his shoulders back and his head up. A fellow who looks like he is going somewhere, even if he isn't."
In 1946 Price was killed in an auto accident in North Wilkesboro, NC. He was 79.