Spearhead
The Gastonia Gazette, Feb. 3, 1960
Stanley Girl is patient
Open-Heart Surgery Set On TV Thursday
CHARLOTTE – Television Station WBTV has announced the most ambitious public affairs program series ever undertaken by a Carolinas TV station.
The series, titled "Spearhead," will depict the progress of the Carolinas through a series of one-to-15 hour programs to be scheduled in prime evening hours.
The first program, Spearhead: Open-Heart Surgery, will be seen from 9:30 to 11:00 p.m. tomorrow. A skilled team of Charlotte surgeons will perform dramatic open-heart surgery on four-year old Betty Sue Hilton of Stanley, using a heart-lung machine which takes over the action of the heart while the operation is being performed.
Other programs scheduled for succeeding months include a 15 hour telethon on behalf of the Fine Arts Fund; participation in a B-52 Strategic Air Command raid on Charlotte and the N. C. Air national Guard's defense of the area;
the intricate behind the scenes work of the auditorium-Coliseum, including the circus, "My Fair Lady," and the NCAA Basketball Tournament, and the work of the legendary Reverend Keys as the Parson of the Hills takes religion to the far reaches of the Western North Carolina mountains.
In announcing the ambitious new series, Executive Vice president Charles H. Crutchfield said: "More than eight months of intensive work and planning have gone into the program. 'Spearhead' will depict the forward progress of the Carolinas in all its aspects, dramatically, yet factually, exploring from new angles, shedding new light. It will show flaws in that progress where they exist and perhaps set forth a few 'remedies.'"
Robert L. Rierson, WBTV's program operations manager, will serve as executive producer of the series and will utilize the full facilities and staff of the station.
The Gastonia Gazette, Feb. 4, 1960
Tonight on TV
THE FIRST in a series of locally produced programs depicting the forward programs of Charlotte and the area will get underway with a live showing of a heart operation on a four year old girl. WBTV's "Spearhead" cameras penetrate an operating room at Charlotte's Memorial Hospital to show a team of skilled surgeons performing the surgery on Betty Sue Hilton of Stanley, using the famed heart-lung machine which takes over the action of the heart during the operation. Dr. Francis Robicsek will narrate the 90-minute special. Channel 3, 9:30.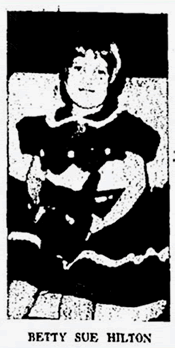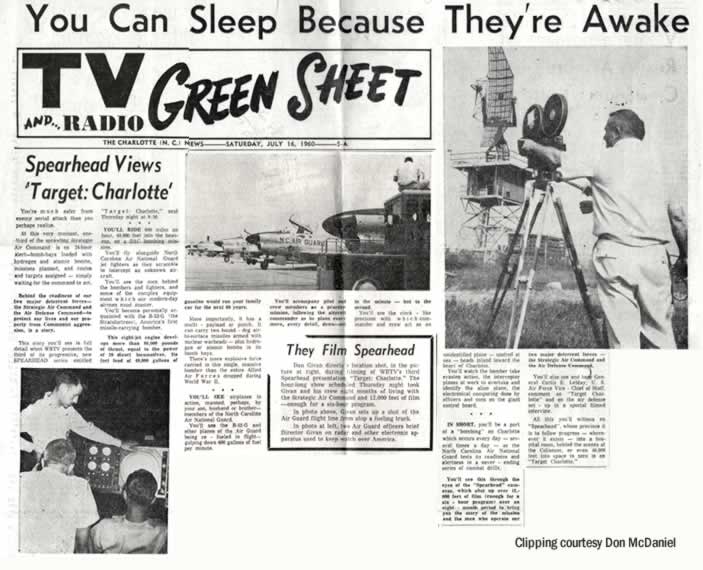 The Charlotte News, July 6, 1960
You Can Sleep Because They're Awake
Spearhead Views "Target: Charlotte"
You're much safer from enemy aerial attack than you perhaps realize.
At this very moment, one-third of the sprawling Strategic Air Command is on 24-hour alert—bomb bays loaded with hydrogen and atomic bombs, missions planned, and simply waiting for the command to go.
Behind the readiness of our two major deterrent forces—The Strategic Air Command and the Air Defense Command—to protect our lives and our property from Communist aggression, is a story.
This story you'll see in full detail when WBTV presents the third of its progressive new Spearhead series entitled "Target: Charlotte," next Thursday night at 9:30.
You'll ride 609 miles an hour 40,000 feet into the heavens, on a SAC bombing mission.
You'll fly alongside North Carolinas Air National Guard jet fighters as they to intercept an unknown aircraft.
You'll see the men behind the bombers and fighters, and some of the complex equipment which our modern-day airmen must master.
You'll become personally acquainted with the B-52-G, (the Stratofortress), America's first missile-carrying bomber,
The eight-jet engine develops more than 30,000 pounds of thrust, equal to the power of its 30 diesel locomotives. Its fuel load of 49,000 gallons of gasoline would run your family car for the next 60 years.
More importantly, it has a multi-payload punch. It can carry two hound-dog air-to-surface missiles armed with nuclear warheads—plus hydrogen or atomic bombs in its bomb bays.
There's more explosive force carried in this single, massive bomber than the entire Allied Air Forces dropped during World War II.
You'll see airplanes in action, manned, perhaps, by your son, husband or brother—members of the North Carolina Air National Guard.
You'll see the B-52-G and other planes of the air Guard being re-fueled in flight—gulping down 600 gallons of fuel per minute.
You'll accompany pilot and crew members as a practice missions, following the aircraft commander as he plans every move, every detail, down-not to the minute—but to the second.
You'll see the clock-like precision with which commander and crew act as an unidentified plane—spotted at sea— heads inland toward the heart of Charlotte.
You'll watch the bomber take evasion action, the interceptor planes at work to overtake and identify the alien plane, the electronical computing done by officers and men on the giant control board.
In short, you'll be a part of a "bombing" on Charlotte which occurs every day—several times a day—as the North Carolina Air National Guard tests its readiness and alertness in a never-ending series of combat drills.
You'll see this through the eyes of the "Spearhead" cameras, which shot up over 12,000 feet of film (enough for a six-hour program) over an eight-month period to bring you the story of the mission and the men who operate our two major deterrent forces—the Strategic Air Command and Air Defense Command.
All this you'll witness on "Spearhead," whose province it is to follow programs —wherever it exists—into a hospital room, behind the scenes at the Coliseum, or even 40,000 feet into space, to zero is on "Target Charlotte."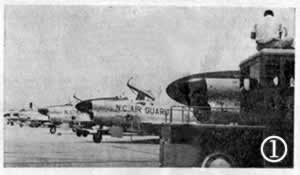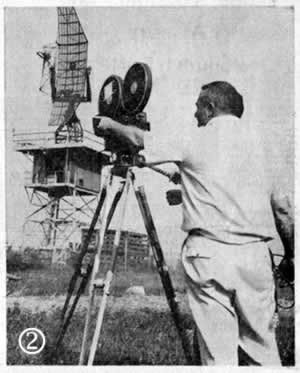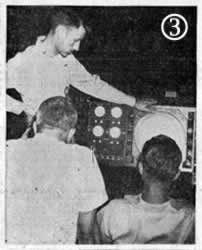 They Film Spearhead
Dan Givan directs a location shot, in picture 2, during filming of WBTV's third Spearhead presentation, "Target: Charlotte." The hour-long show scheduled Thursday night took Givan and his crew eight months of living with the Strategic Command and 12,000 feet of film— enough for a six-hour program.
In photo 1, Givan sets up a shot of the Air Guard flight line from atop a fueling truck.
In photo 3, two Air Guard officers brief Director Givan on radar and other electronic apparatus used to keep watch over America.
Production photos from "Target: Charlotte."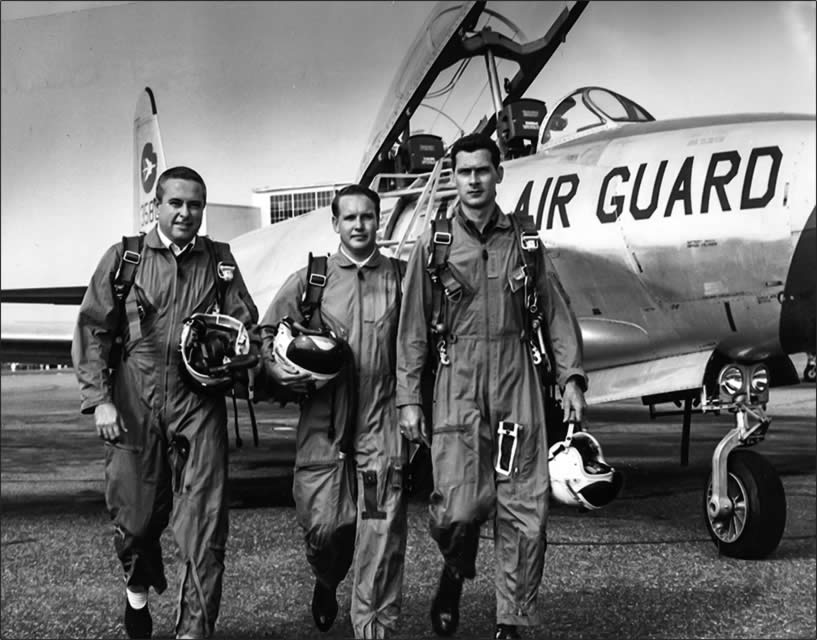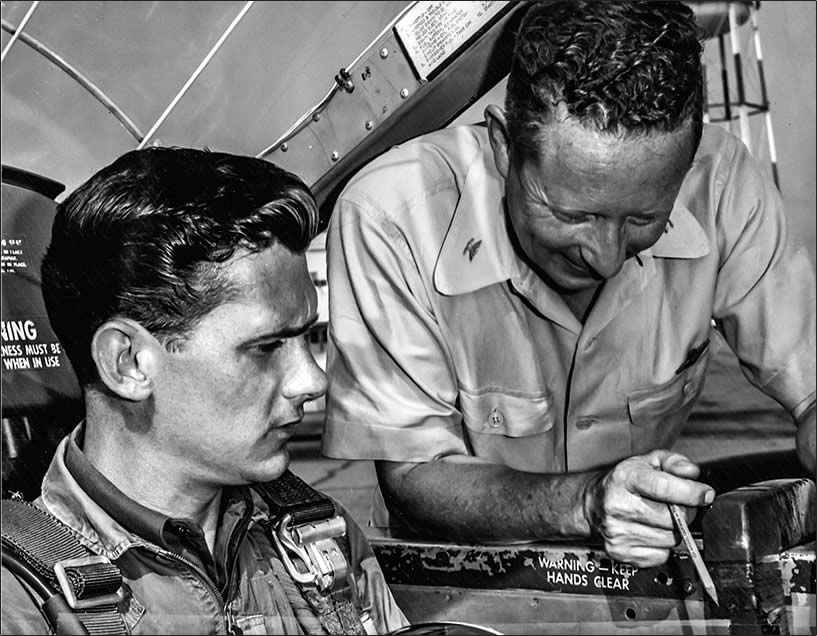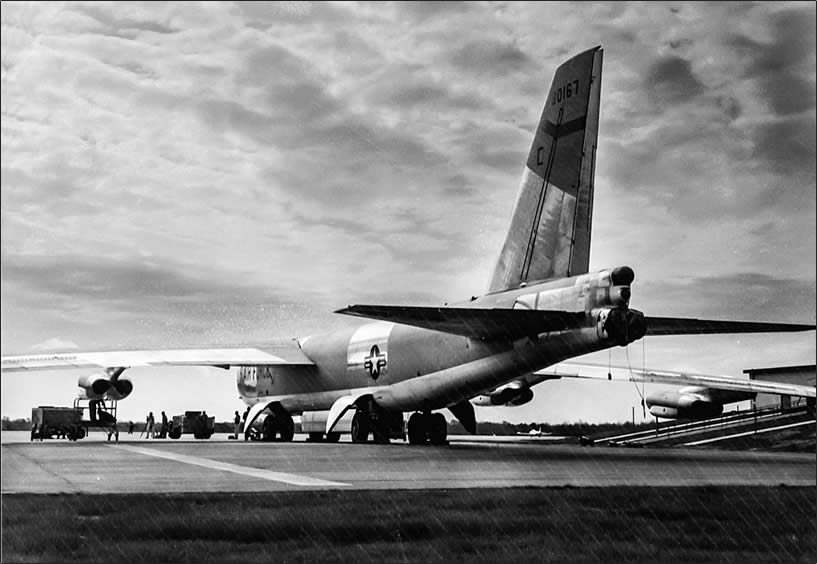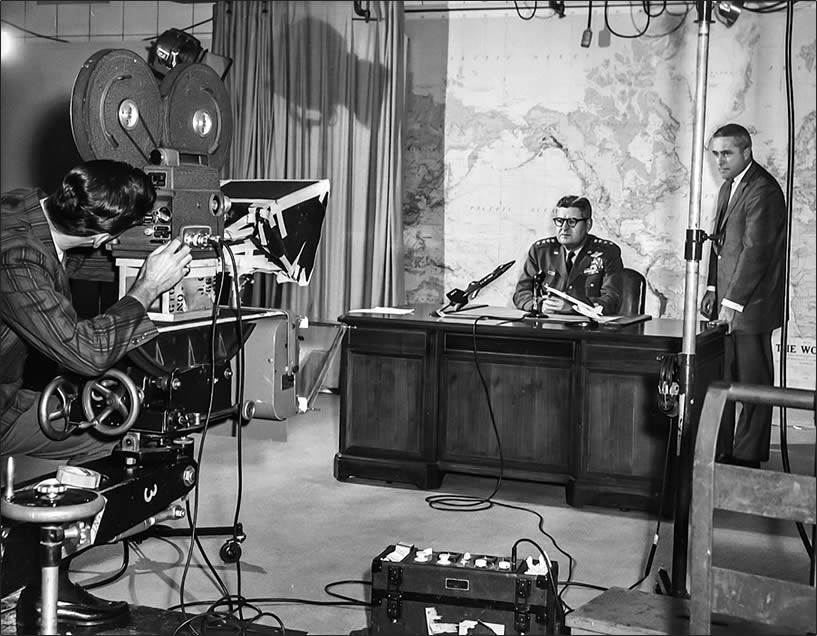 Spearhead – The Parson of the Hills
This half-hour production by WBTV aired on Channel 3 on Monday, Dec. 5, 1960. The "parson" was the Reverend Charles Keyes of Hickory. For years to come, Rev. Keyes would use his copy of the show at his gatherings to raise funds to help the poor. Here's a clip from The Statesville Record and Landmark of Sept. 11, 1964 on the parson's "tent crusade" being held in town.
Tent Crusade to Continue
… Tonight he will show a film called "Spearhead." The film describes his ministry of taking toys and clothes to underprivileged children in the mountains. Persons who have such items are invited to bring them to the tent. The film is 30 minutes long and produced by WBTV.
Here are photos taken during production of the film.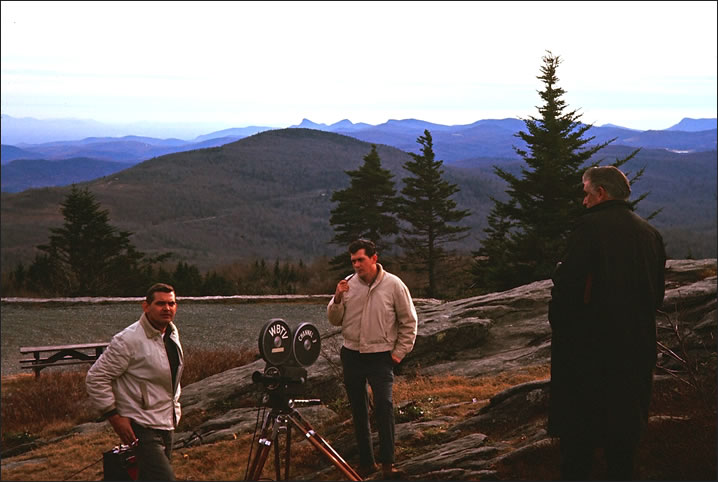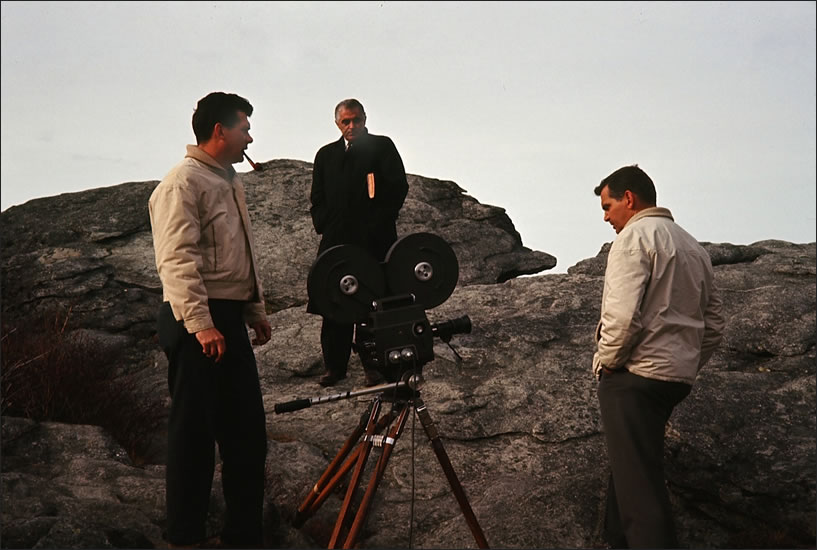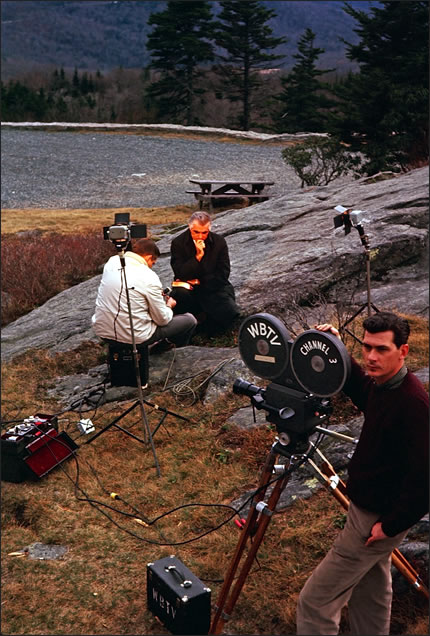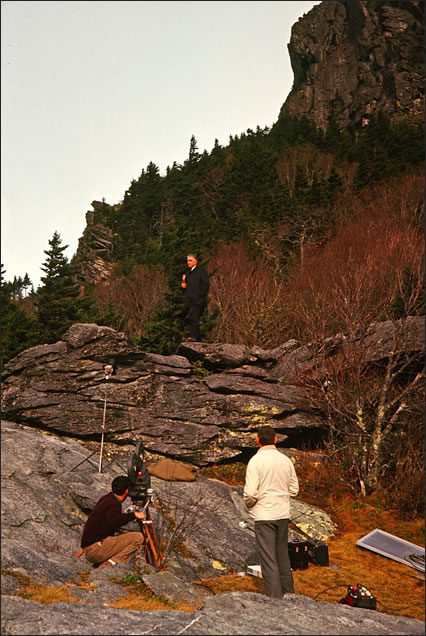 Few of us, even the most powerful, even in death, will make the New York Times. But our humble parson did. Here are the first paragraphs of his long obituary in that newspaper.
Charles Keyes, 76, Parson in Appalachian Hills
By ROBERT McG. THOMAS Jr.
Published: March 19, 1996

Charles Keyes, the itinerant "parson of the hills," who spent his life delivering stem-winding sermons and dispensing Christmas joy to the mountain poor of five states, died on Sunday at a nursing home in Hickory, N.C. He was 76 and had been preaching since he was 5 years old.

His family said the cause of death was a stroke.

Until ill health forced him to turn his ministry over to his son David a decade ago, Mr. Keyes, a seminary dropout who also operated a camp for poor children, spent more than 30 years as a Santa Claus of the hills. He distributed donated toys, blankets, food and clothes to thousands of impoverished children living in the mountain coves and hollows of North Carolina, Kentucky, Tennessee, Virginia and West Virginia.

Despite billions spent on Federal aid to Appalachia, Mr. Keyes found the poverty so ingrained that whether he was handing out oranges and candy or a pair of shoes, he was the only Santa Claus many hill dwellers ever knew.
…